Nice work everyone, this week's #geomob at Campus was our biggest yet, this shot captures only about half the audience.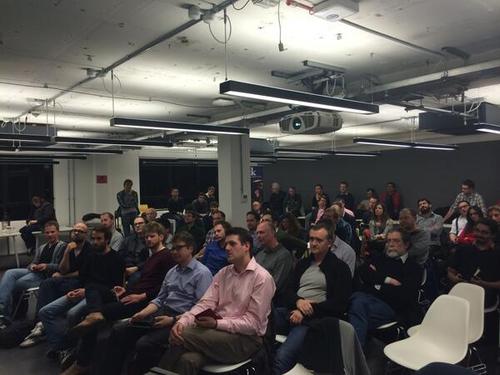 My thanks to all six of our speakers. Benjamin Hennig has posted an overview of his talk. As the other speakers make their slides public we will tweet the URLs from the geomob account (which you all no doubt follow).
The quality of the talks over the course of the evening was a testament to the wide variety of geo-innovation happening in and around London. Against tough competition Jason Davies was able to win the crowd over with his talk about D3 and thus became the first winner of the coveted best speaker prize: a custom SplashMap. Well done Jason! We look forward to carrying on the best speaker SplashMap tradition at all future #geomobs. Here's a picture of SplashMaps CEO (and former two-time #geomob speaker!) David Overton congratulating Jason on his victory.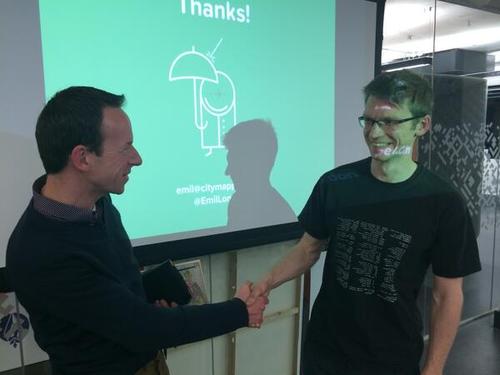 I am pleased that we're already able to announce a great lineup for our next event. On Tuesday the 13th of May at 18:30 we'll return to Pearson Lecture Theatre at UCL.  Exact details, including a map, can be found on the Lanyrd page for the evening, where we ask you to sign up so we can estimate the audience size.
The agenda for the evening will feature 10-15 minute talks from:
After the talks we will vote for the evening's best speaker and then adjourn to a nearby pub to carry on the conversation. It's all made possible by the generosity of our hosts, the UCL Dept of Civil, Environmental and Geomatic Engineering, and our sponsors knowwhere consulting, OpenCage, and SplashMaps. Thank you!
For those of you who like to plan ahead the next #geomob after the 13th of May will take place on Thursday the 17th of July, the signup page is already available. A few speakers are already committed, please let us know if you'd like to volunteer. 
We look forward to seeing you all on the 13th of May
yours in geo-innovation,