The details are now clear for the next #geomob which will take place at 18:30 on Tuesday the 4th of November. We'll once again be at the BCS at 5 Southampton Street near Covent Garden, many thanks to them for their continued support. Please sign up on Lanyrd so we have a sense of the numbers to expect.
The format will be the same as ever - each speaker will have 10-15 minutes to share their material followed then by 5 minutes of audience questions. At the end of the evening those who wish can keep the discussion going at a nearby pub over #geobeers generously funded by our sponsors (Thank you!).
On the 4th of November we'll be hearing from:
As always, at the end of the evening attendees will vote by show of hands for the best speaker who will be awarded with a free SplashMap. The non-winners will have to console themselves with free beer.
We hope you agree it has all the makings of a great evening and look forward to seeing you at 18:30 on the 4th.
Many thanks to everyone who attended our event this past week. Richard Fairhurst took home the SplashMaps best speaker prize for his presentation about cycle routing on cycle.travel. Congratulations to him, but also to all of the other speakers for their well received presentations.
Here's a picture from the evening of Jo Cook presenting #portablegis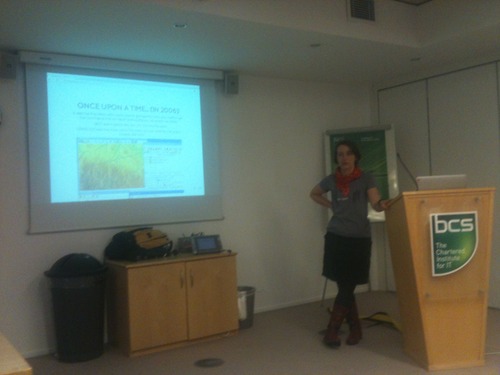 We're always on the hunt for more speakers, and still have a few slots for our first #geomob of 2015 which will take place on the evening of Tuesday the 13th of January (please sign-up).
See you in November!
Ed (freyfogle)